It is summer! Kids are out of school, and the fun is about to begin. I am currently on vacation, so as I sit in the hotel lobby using the "shared" computer because in my haste to get out the door I left my laptop, I wanted to share some of my thoughts on summer. We have a love-hate relationship, summer and I.
I love summer vacation. My kids are home. We don't have the rushed and busy schedules of the rest of the year. We eat healthier, sleep better, and enjoy every moment we can soaking up the sun. But, summer can come with a downside. The summer boredom can strike. The nagging, complaining, and wanting to go and do when Mom has plenty around the house to do. I sometimes just wish school would start back up already so I could get a few hours of peace.
Hopefully I am not alone is this. If I am. STOP READING. If not, the best way to have a fun summer is to have a great plan.
I scoured the web and found my favorite resources and tools to share with you for having a great summer. Here are the top 3 ideas I had for making summer fun!
Idea One: Put Together a Play Calendar
I love this idea becuase it means that your kids won't be asking all day, "What are we doing today?" Instead they can refer to the calendar, and know what is on the agenda. You can set expectations that are manageable. For example, my kids know we have something fun planned for each day, but they have to do thier reading, make thier beds, and do one chore before the fun can begin!
You can find this Summer Play Pack at Kids Activities Blog.
You have to preorder thier book to get it, but I am pretty sure you won't regret it. If you are not interested in preordering, you can use it for inspiration and ideas. Their blog is full of fun things to do with kids all summer long.
Idea Two: Indulge in Free Play
This idea has two meanings. Free as in unstructured, and free as in not having a monetary cost.
Summer fun does not need to come at a premium. I always find our budget is stretched to the max during the summer months because we think we have to spend, spend, spend to have fun. But guess what? We don't. In fact, kids really do need some time that is free for play. Imaginative, creative, and free fun play.  This can be at home, at a park, or at a beach.
Check out these 35 Free Things to do at the beach from Rachael at Nothing If Not Intentional
Idea Three: Don't forget the summer safety.
If you want to really enjoy the summer it is best to keep it safe. Stay out of the emergency room. Stay out of the danger zone. Stay safe. This means sunscreen, pool safety, bike safety, etc. Here are some great articles about keeping your family safe this summer.
Pool safety from Southern Girl Ramblings
Bike safety from Spoonful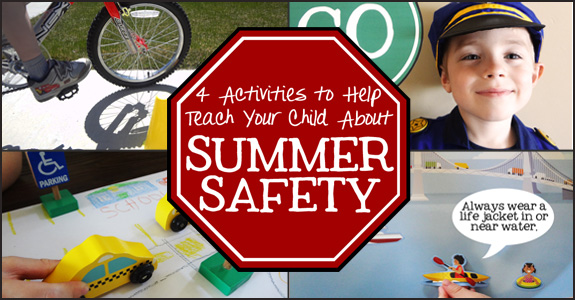 Teaching Kids Summer Safety from Melissa and Doug
I hope this helps! Have a safe and happy summer!