Mother's May is a great time to talk about how we as mothers should take some time for a break. Once a year a group of my girl friends and I rent a cabin and spend a weekend shopping, talking, eating, hanging in the hot tub, and just relaxing and rejuvenating.
We all look forward to this weekend away. I highly recommend taking time to get away with friends. And here are my top 5 destinations for a girl's weekend away.
Las Vegas, NV
Shining lights, buffets laden with food, the ringing and dinging of slot machines, fancy hotels, and world-class entertainment. You get sunshine, pools, shows and entertainment, good food, great spas, and of course, shopping.
Basically it is a great place to get a little of everything you would want for a girl's weekend away. And, one great aspect is that you can go as cheap or expensive as you want. There are high-end hotels and casinos, and low cost motels and inns. You can walk the strip and people watch, or you can pay for shows, comedy clubs, and more.
San Diego, CA
Beautiful weather year round, fresh and tasty seafood, beautiful beaches, amazing shopping. I can't say enough good about San Diego, whether you want to go to a pro-sporting event or go wine tasting, or enjoy nature with hikes, surfing, or something else, it is likely San Diego can accommodate. It is a great weekend spot.
Want to save money on a weekend in San Diego? Consider buying a Go-San Diego Pass, which will get you into many of the top attractions, from the Zoo to the museums, for one low price.
Park City, Utah:
Beautiful views, skiing, hiking, shopping, dining, and more. Park City is a resort town nestled in the mountains of Utah. There are wonderful little shops with local owners, great dining, and outlet shopping, an Olympic Park with zip lines, bobsled runs, and many other fun activities.
While many of the hotels are high end, you can stay off season, or in smaller hotels for a great price. And with all the money you will save shopping at the Outlets, you can probably afford a better hotel.
Charleston, South Carolina: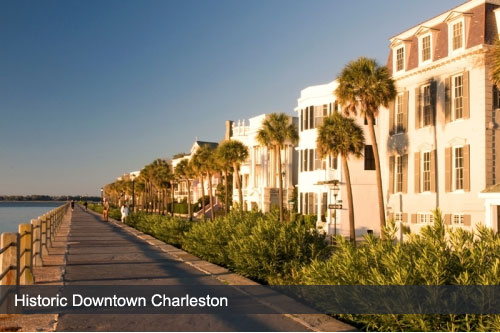 From old mansions to cobblestone walks, this is the place you go if you want the genteel South. You will see gas lamps and horse-drawn carriages and antebellum architecture. A weekend in Charleston will have history, shopping, and great foods. And if you don't consider it a vacation without a beach, it is just a short drive from the city center to beautiful little islands and sun and sand.
It can be expensive, but try traveling off-season for fewer tourists and more savings. And, if you want to eat at some of the more expensive restaurants, try them for lunch rather than dinner.
 San Antonio, Texas:
This photo of San Antonio is courtesy of TripAdvisor
San Antonia, the heart of the Alamo, and a great place to experience "Texas Pride" also offers theme parks, museums, professional sports, the famous River Walk, and more. It is a lively city with plenty of fun to be had. It has great restaurants, and is a beautiful mix of old and new.
Just be careful not to try and book during a convention or the city will be full and the prices high. Enjoy the River Walk, but dine elsewhere as it can be very expensive and you can save a bundle going just a few blocks away. And be sure to enjoy some Tex-Mex, as it is top-notch!
Where is your favorite place to get away for a weekend? I am always looking for new places to visit. Feel free to share the "must-see" spots and why you love it!